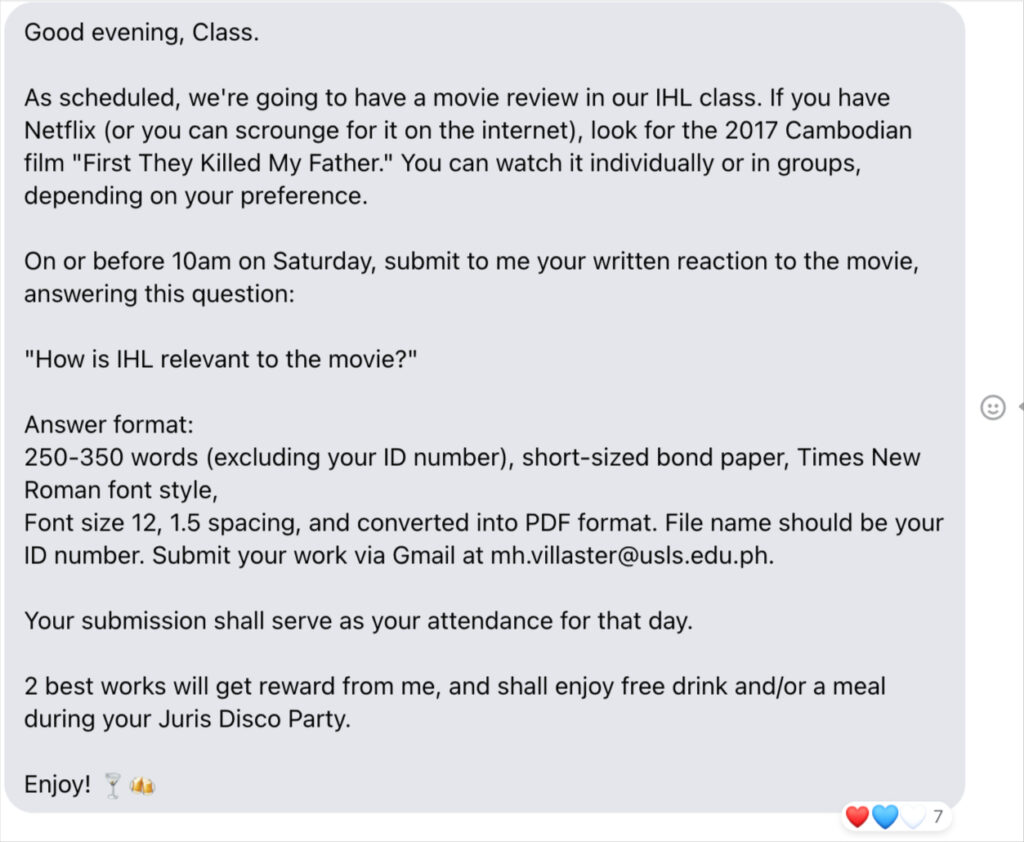 (This 350-word reflection is an assignment required of us in IHL)
How monstrous would this world be if there is no such thing as humanitarian law?
As I watched "First They Killed My Father", one principle resounded: The power of ideas. Ideas precede everything that happens in this world. Ideas are the foundations upon which societies rise or fall. 
Obviously, ideas were behind the actions of the Khmer Rouge. They were ordinary people whose thoughts were taken captive. One rebel said, "In the New Cambodia, x x x no private property. No rich, no poor. No class. We are all the same now." Another said, "It's better to make a mistake and kill a person than to keep an enemy alive."
Wars are primarily wars of ideas. Wars are won with ideas. This is where IHL comes in. It is a better and more powerful idea. It is an idea where we can at least hope for a world without atrocities, if not a world without war – a world that protects civilians and limits unnecessary consequences of war.
If IHL were in place, there could have been: 
(1) Distinctions between civilians and combatants. Loung, the perspective-giver of the movie, her family, and other civilians could have been spared from that hell on earth. They did not constitute the elements of direct participation in hostilities, namely: (a) threshold of harm; (b) direct causation; and (c) belligerent nexus. Religious personnel such as monks could have been protected;
(2) Using children as soldiers or forced laborers could have been avoided;
(3) The use, stockpiling, and production of anti-personnel mines that caused unnecessary loss of lives and limbs could have been eliminated.
The best way to prevent evil is to confront it in all its horrors. But people cannot confront something they cannot qualify as evil. Hence we need a standard of norm such as IHL.
As ICRC notes, "Violations of IHL are not due to the inadequacy of rules x x x but the lack of willingness to respect them, x x x to enforce them x x x and ignorance x x x on the part of leaders, commanders, combatants, and the general public."
This article won the best work in our IHL class